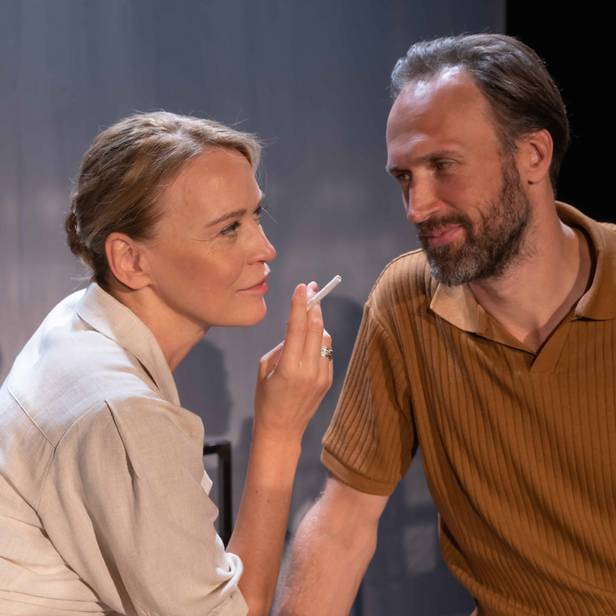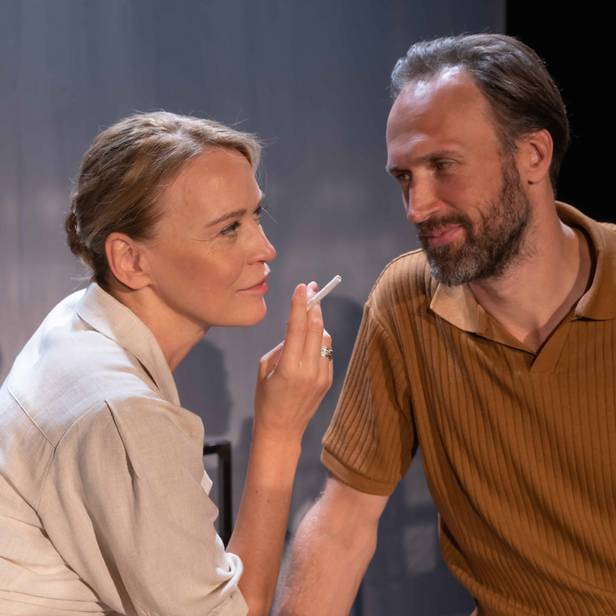 Claudine Galea's play "I Return from Afar" (Je reviens de loin) and Elita Kļaviņa's documentary film "Sisters of Iļģuciems".
Two languages of art combined in a single project about family relationships, hopes of women and the strength to live.

The first part is based on the French playwright and novel author Claudine Galea's play "I Return from Afar". The play was written in 2003, in which dreams and fantasy intertwine with laws of reality. The film "Hold Me Tight" ("Serre moi fort"), which is based on the play, was screened at the Cannes film festival in 2021 and received professional recognition. In her works, Galea scrutinizes themes of separation and death. This play is no exception. Not being able to accept the reality where her husband and children have passed away in a tragic accident, Camellia goes on a journey of self-exploration. She imagines that her husband and children are still alive, and she is the one who leaves home. Fantasy can provide an opportunity for a brief moment to be with our loved ones. Will it help Camellia return to life and accept the harsh reality?

In the second part of the project, we present the documentary "Sisters of Iļģuciems". The film takes place in Ilģuciems Women's Penitentiary. Women, who are currently serving their sentences for heinous crimes, take part in Anton Chekhov's "Three Sisters" play's production alongside professional actors, such as Kaspars Znotiņš, Ivars Krasts, Ģirts Krūmiņš, etc., concurrently revealing their wounding tales of family and longing for a humane attitude outside of prison walls.

Elita Kļaviņa debuted with her feature length documentary "Zoryana Horobraya", for which she received the National award "Lielais Kristaps" in the nomination "Best student film". The film "Sisters of Iļģuciems" has been nominated for the best documentary at "Female Filmmaker Film Festival Berlin".

Venue: the Small Stage, Miera street 58a.
Duration of the performance: 1 h 10 min.
Duration of the film: 1 h
Total duration: 2 h 30 min (with an interval)
Prices: 15,00; 18,00; 20,00 EUR.
Premier on September 9, 2022.
The performance rights of the play "Es atgriežos no tālienes" by Claudine Galea are represented worldwide by L'ARCHE – agence théâtrale (www.arche-editeur.com).